Return To Product Listing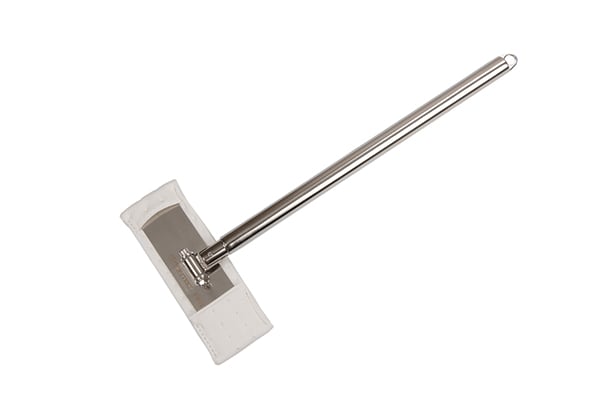 Contec's lightweight stainless steel EasyReach™ Cleaning Tool is designed for cleaning isolators, laminar air flow hoods, glove boxes and other mini environments. Rectangular shape makes overlapping straight-line action easy to achieve. Hinged joint along with the ability to lay flat makes this lightweight tool comfortable and easy to use for accessing hard-to-reach areas.

The single-use sealed polyester EasyReach™ cleaning pads provide a low level of particulates which is essential for use in product contact areas. The pads are very absorbent, ensuring good even coverage of disinfectant or IPA. Easy grab edge on the cleaning pad ensures the pad fits tightly on the mop frame, but is easy to replace with gloved hands. Sterile pads presaturated with 70% IPA are also available.
Read More
Features & Benefits
Rounded tool edges and strong, durable, double layer pads ensure equipment is not damaged during use
Lightweight EasyReach Tool lays flat and is comfortable to use and minimizes fatigue
All components are designed to be chemical resistant, minimizing the risk of contamination from degradation
Presaturated option removes the need for 70% IPA spray bottles, reducing inventory and minimizing waste costs
Sorbent, double layer Quiltec sealed edge polyester cleaning pads ensure particles and fibers are minimized
The polyester cleaning pads leave no unwanted surface residues
Available validated sterile
Find A Contec Expert
Product Information
Denotes Sterile Product
Part No.
Description
Size
Packaging
Sample
Description
EasyReach Ultrasonically Sealed Polyester Cleaning Pads
EasyReach Ultrasonically Sealed Polyester Cleaning Pads
Size
7.5'' x 2.8'' (19 x 7cm)
Packaging
4 each/bag; 25 bags/case
Description
EasyReach Sterile Ultrasonically Sealed Polyester Cleaning Pads
EasyReach Sterile Ultrasonically Sealed Polyester Cleaning Pads
Size
7.5'' x 2.8'' (19 x 7cm)
Packaging
4 each/bag; 25 bags/case
Description
EasyReach Cleaning Pads, Quilted polyester
EasyReach Cleaning Pads, Quilted polyester
Size
7.5'' x 2.8'' (19x7cm)
Packaging
4/bag; 15 bags/case
Description
EasyReach Sterile Cleaning Pads, quilted polyester
EasyReach Sterile Cleaning Pads, quilted polyester
Size
7.5'' x 2.8'' (19x7cm)
Packaging
4/bag; 15 bags/case
Description
EasyReach™ Sterile 100% Knitted Polyester Cleaning Pads
EasyReach™ Sterile 100% Knitted Polyester Cleaning Pads
Presaturated with 70% IPA and 30% DI water
Size
7.75'' x 2.75'' (20x7cm)
Packaging
8/bag; 8 bags/case
Description
EasyReach Stainless Steel One-Piece Lay Flat Frame
EasyReach Stainless Steel One-Piece Lay Flat Frame
Description
EasyReach Stainless Steel Lay Flat Mop Frame
EasyReach Stainless Steel Lay Flat Mop Frame
Description
QuickConnect EasyReach Polypropylene Lay Flat Frame
QuickConnect EasyReach Polypropylene Lay Flat Frame
Description
QuickConnect™ Stainless Steel Handle with Hanging Loops
QuickConnect™ Stainless Steel Handle with Hanging Loops
Description
QuickConnect™ Anodized Aluminum Telescopic Handle
QuickConnect™ Anodized Aluminum Telescopic Handle
Size
16'' - 30'' (40.6-76.2cm)
Description
QuickConnect™ Stainless Steel Telescopic Handle
QuickConnect™ Stainless Steel Telescopic Handle
Size
16'' - 30'' (40.6-76.2cm)